Big Bazaar The Young Elders Day 14-16 Feb – Get Rs 200 off Voucher. Big Bazaar is again come back with new offer where you will get Rs 200 off voucher on shopping worth Rs 1000 or more. This is Big Bazaar The Young Elders Day 14-16 Feb Offer. Hello shoppers get ready to shop on Big Bazaar with discount coupon/voucher for free. In this post i'm giving you trick about how to get Rs 200 discount coupon for Big Bazaar Shopping. you can redeem this voucher when you shop Rs 1000 or more then you will get Rs 200 discount. Down below steps are given, how to get Rs 200 discount voucher of Big Bazaar.
Big Bazaar The Young Elders Day 14-16 Feb :-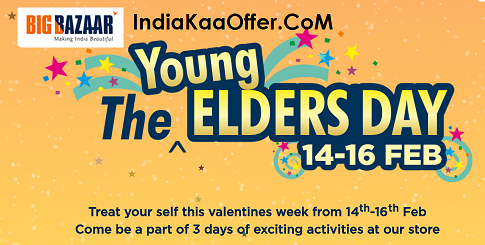 How To Get Rs 200 off Voucher :-
1) First of all click here to get free voucher page.
2) Now REGISTER AND GET A VALENTINE SURPRISE!
3) Fill your details like your name, mob no. email etc
4) Click on register to get voucher.
Terms & Conditions :-
Young Elders Day is run by the Company M/s. Future Retail Ltd ("FRL").
The event will start on 10th Feb, 2018 at 9 am and end on 16th Feb, 2018 at 9:59pm
The offer is valid only from 14th Feb 2018 till 16th Feb 2018 across all our Big Bazaar stores only. Offer will not be valid on certain food products
FRL has the sole right to withdraw / edit any aspect of the event at its sole discretion and / or alter the terms and conditions without prior notice.
An entrant to this campaign indicating his/her agreement to be bound by these terms and conditions.
The stocks of announced product are limited and hence we don't assure the availability of the product across all the Big Bazaar stores to all customers.
Only one mobile number will be considered from one profile.
If FRL finds out any illicit activities, fake profiles or users creating multiple accounts to retweet, those particular retweets will not qualify
The decision of Company in respect of all matters towards the campaign will be final and no correspondence will be entertained into.
In case of any dispute, the decision of FRL shall be final and binding on all concerned and Courts in Mumbai shall have exclusive Jurisdiction.
FRL reserves the right to modify these Terms and Conditions and such changes shall be deemed effective immediately upon posting of the modified Terms and Conditions.