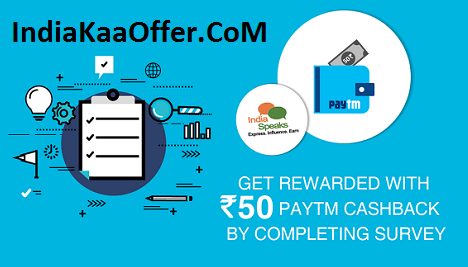 IndiaSpeaks Get Rs 50 Paytm Cash Loot Free By Completing Simple Survey. I'm again come back with a new loot of Paytm Cash.  Get Free Rs 50 Paytm Cash on giving 10 minutes simple survey. One more thing that is important in this offer that few people will be qualified for this survey. So try your luck and win. " Best Of Luck ".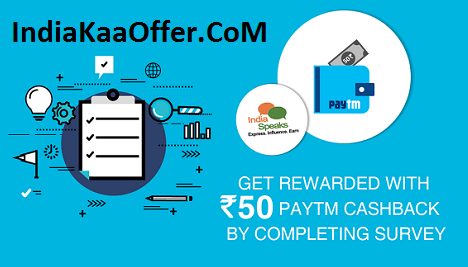 IndiaSpeaks Get Rs 50 Paytm Cash Loot Free By Completing Simple Survey :-
Follow Steps :-
Purhcase the deal.
Customer will receive a link in their email AND in 'Your Orders' section of their account.
Click on the link and you will be re-directed to the page.
Complete Survey.
Please complete all of the questions appearing on each page. If you forget to answer a question, you will be prompted to provide an answer.
Always scroll down to make sure you have answered all of the questions provided. When you are ready to move on to the next page, click the "Next" button located at the bottom center of the screen.
The cashback will be added after the validation process, which might can take 7-10 working days.
Note :- If you got Sign up page of IndiaSpeaks, That's mean You are disqualified from survey.
(Please read Survey Tips carefully otherwise you will be disqualified within few minutes).
Survey Tips & Answers:-
1) Based on "Your Child is in 11th or 12th Standard and need admission in Under graduate courses.
2) City- Bangalore, chennai
3) Age 41,42,43 (You are Father of a child.)
4) Occupation- Food & Restaurent Service.
5) Businessman – 1-9 employee.
6) Under graduate/Postgraduate – Professional
7) Married with kids
8) Now, we would request you to keep in mind your child studying in 11th Standard while answering the upcoming questions
9) Private college
10) Full-Time Course
11) Rest all questions are simple, but give based on 1st point & 7 point.
12) In Last at Household income page, you may get Indiaspeaks sign up page.